Das sehen wir nicht alle Tage: Der Hafen in strahlendem Sonnenschein – daran können sich weder Hamburger noch Touristen satt sehen! Klar, dass an solchen Tagen alle Lokale in Elbnähe Stühle und Tische nach draußen stellen, damit die Gäste das genießen können. Wir saßen vor dem Weinland Waterfront.
If the sun comes out, the people of Hamburg follow as soon as possible! We went to the Weinland Waterfront with lovely harbour view.
Vor dem Weinland Waterfront trafen wir Christof aus Fribourg (Schweiz), der immer wieder gerne Hamburg besucht. Das älteste Haus Altonas wurde 1829 als kleine Werft gebaut, in der fast 100 Jahre lang Rettungsboote für Fracht- und Passagierschiffe gebaut wurden. Mächtige Stahlträger und historische Seilwinden sind die unübersehnbaren Zeugen dieser maritimen Vergangenheit. Heute können Besucher hier gemütlich sitzen, essen und trinken, oft Live-Musik genießen und auch Wein verkosten und kaufen. Und bei schönem Wetter auf den Hafen gucken!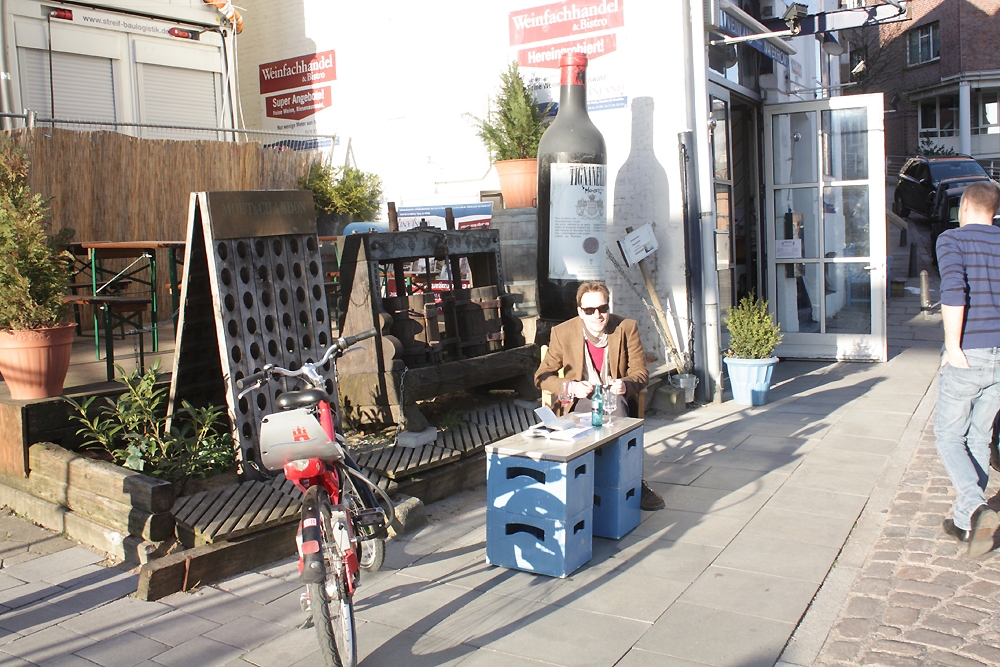 At the Weinland Waterfront we met Christof from Fribourg (Switzerland) who likes Hamburg very much.
The house ist the oldest of Altona, built in 1829 as a wharf. You still can see girders and rope winches. Weinland offers nice food and drinks, live music and wine tasting. Of course you also can buy wine here…