Maria Lassnig im selben Atemzug mit Frida Kahlo und Louise Bourgeois zu nennen, wäre noch vor Kurzem wohl niemandem eingefallen. Lange musste die österreichische Künstlerin auf Anerkennung warten. Aber jetzt ist es soweit! Catrin Haufschild findet: zu Recht!
To name Maria Lassnig in the same breath with Frida Kahlo and Louise Bourgeois is brand new – but absolutely right. The Austrian artist had to wait a long time to be recognized. Catrin Haufschild thinks it is about time!
Ein wichtiger nationaler Erfolg war die Professur an der Wiener Kunsthochschule im Alter von 60 Jahren. Jetzt, in diesem Sommer, wurde sie mit dem Goldenen Löwen der 55. Biennale für ihr Lebenswerk ausgezeichnet und die Hamburger Deichtorhallen zeigen in ihren großzügigen Räumen 113 Exponate aus den Jahren von 1945 bis 2012 (noch bis 8. September). Inzwischen vergleicht die Presse Lassnigs internationalen Bekanntheitsgrad mit dem von Frida Kahlo und Louise Bourgeois. Die Frau mit der großen Brille ist ganz oben angekommen – im Alter von 93 Jahren.
An important success for her was the professorship at the Vienna Art Academy at the age of sixty. This year she was decorated for lifetime achievement with the Golden Lion of the 55. Biennale in Venezia and the Hamburgian Deichtorhallen are showing 113 exhibits from 1945 to 2012 (till September 8th). Now the presse has discovered her potencial and name her in the same breath with Frida Kahlo and Louise Bourgeois. The woman with the big glasses is on the top now – at the age of 93!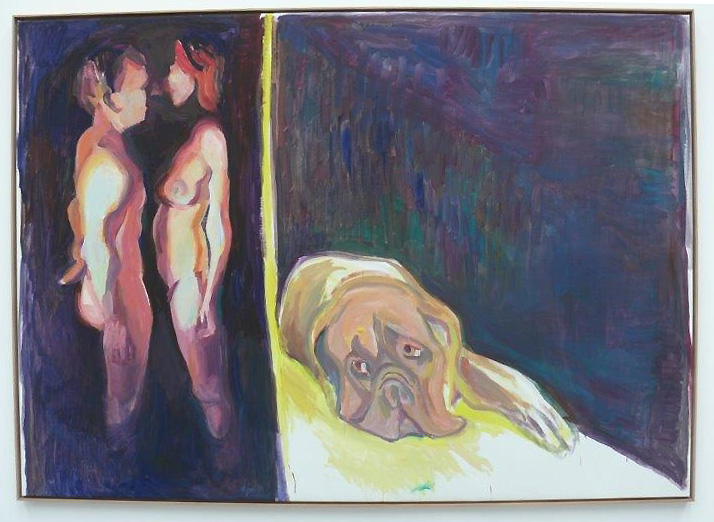 Lassnigs Bilder entstehen, indem sie in sich hineinhorcht. Von "Körperbewusstsein" und "Körpergefühlen" ist in Zusammenhang mit ihren Bildern oft die Rede. Was sie empfindet, trägt sie recht spontan auf bis zu 2 Meter hohe Leinwände auf. Dazu müsse sie sehr konzentriert sein, sagt sie, genug geschlafen und gegessen haben. Noch heute gehe sie oft in ihr Atelier zum Malen.
Marias Lassnigs workflow starts, when she is doing soul-searching. When people talk about her work, they use words like "body awarness" or "body feelings". She transfers her feelings very spontaneous on canvas. For this she needs to be very concentrated, needs enough sleep and enough nutrition. She still is painting in her studio very often.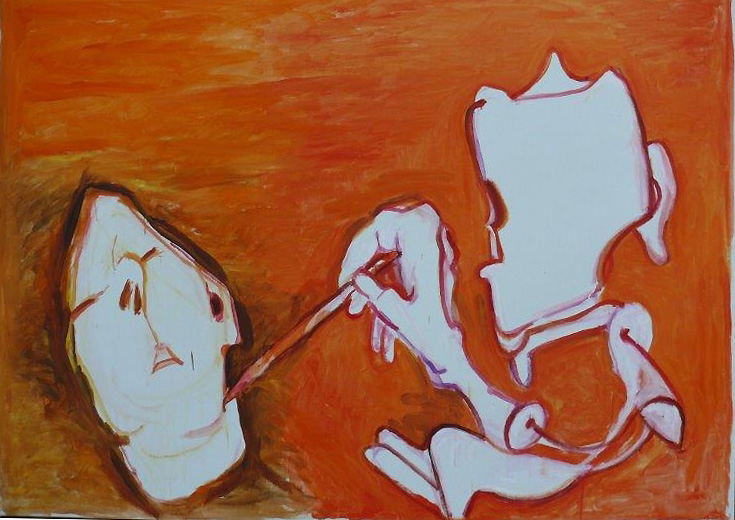 MARIA LASSNIG
DER ORT DER BILDER / THE LOCATION OF PICTURES
TILL SEPTEMBER 8, 2013
HALLE FÜR AKTUELLE KUNST
Oben: Die Künstlerin zwischen zwei Ihrer Selbstporträts.
__________________________________________________________________________________________
Fotos 1, 2 und 3 von Catrin Haufschild, mit freundlicher Genehmigung der Deichtorhallen.
Fotos 4, 5 und 6: UMJ / N. Lackner