Online bestellen kann man ja schon lange – aber es dauerte halt immer sehr lange, bis die schicken Teilchen ankamen. Nun kann man bei Karstadt sehen, fühlen anprobieren…
To order online is already possible for a longer time. But it always takes long till the packages arrive. Now you can visit Topshop intergrated in the department store Karstadt.
Natürlich ist die Shop-Größe nicht mit London oder auch Edinburgh zu vergleichen. Trotzdem gibt es einiges zu gucken; Jeans, Tops und Pullover, Kleider; Taschen und ein paar Accessoires.
The Shop is not as big as in London or Edinburgh, but you can find jeans, tops, pullovers, suits, bags and some accessoires.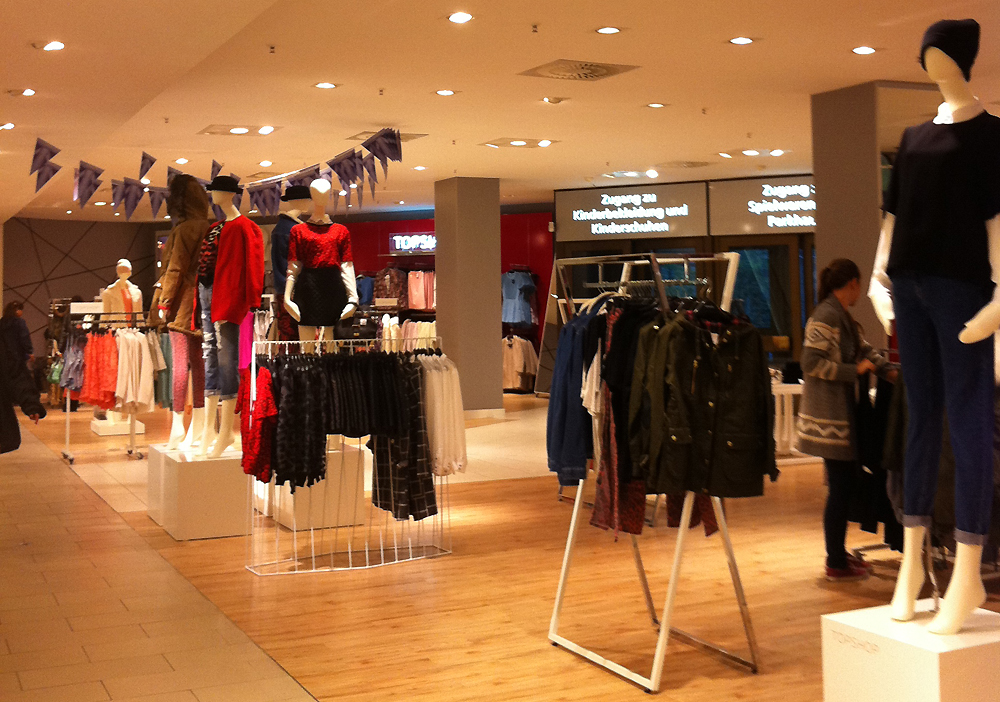 Ist Topshop eher etwas für junge Frauen? Im Großen und Ganzen schon. Aber es lohnt sich absolut, immer mal wieder zu gucken. Denn manchmal gibt es wirklich tolle Teile zu einem ebenso tollen Preis und guter Qualität. Ich konnte diesmal nicht an einem dunkelblauen, flauschigen Pullover vorbeigehen, der sich wunderbar mit Jeans, einem gemusterten Schlauchrock oder auch einer Lederhose kombinieren lässt. Dazu noch eine tolle Kette… wunderbar!
Is Topshop only for younger women? Yes, mostly. But: It is a good idea to have a look from time to time. Sometimes you can discover fancy clothes with a good prize and in good quality. My choice this time: a knitted fluffy v neck jumper in navy blue. It is perfect to combine with jeans, tube skirt or leather trousers. Add a nice necklace and you look great!
Topshop und Topmen in Hamburg: Karstadt Mönckebergstraße
Photo "Knitted fluffy v neck jumper": Topshop